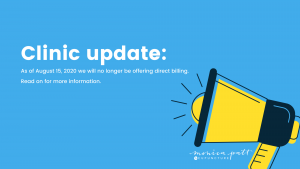 As of August 15, 2020 we will no longer be offering direct billing at our clinic. At the end of every appointment, we will provide you with a detailed receipt.
FAQ
Why are you no longer offering direct billing?
COVID-19 has changed a lot for us, as a small business, and as healthcare practitioners.
We are working hard to make sure that we are outfitting the clinic with every precaution necessary to stay open during a pandemic. Your health and safety remains our top priority, and in order to keep it that way, we have had to invest in additional PPE, cleaning supplies and other necessary supplies to keep our clinic clean and safe during this time.
In only a few months, our operational costs have changed quickly as a result of the pandemic. Instead of increasing our service fees, we have decided to make a few changes to our operations, and that includes no longer offering direct billing.
Is this a temporary change?
We work quickly to update all our patients on changes made to clinic operations that directly impact them. Currently, we are working hard to stay up-to-date with all changes made by Alberta Health Services and the Government of Alberta as it pertains to COVID-19.
If anything changes with our billing process in the future, we will update you as soon as we know.
How long does it take to be reimbursed?
At the end of every appointment, we will provide you with a paper and emailed receipt. Major benefit providers now have online portals, making the benefits submission process easy to use. They also work hard to reimburse all expenses within 5 business days of submitting.
Please let us know if you have any questions.
We value your feedback so much, and we are here to help you transition to this change in the billing process. If you have any questions or require clarification on anything, please get in touch with us.
Email: info@monicapatt.ca
Phone: 780-705-0444