Acupuncture for Pain and Injuries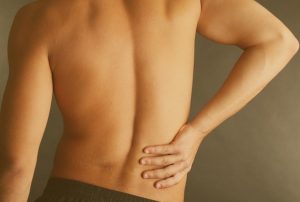 Musculoskeletal injuries involve the muscles, ligaments, tendons and bones. These injuries can occur due to direct trauma to the area (whiplash from a motor vehicle accident), from over use related to occupation (carpal tunnel from years of typing or elbow pain often seen in electricians from daily repetitive use) or from pushing through strenuous workouts to the point of stiffness and reduced range of motion.
Acupuncture treats muscle injuries by placing acupuncture needles along anatomically significant areas such as motor points, trigger points, muscle tendon junctions as well as traditional acupuncture points. Needle insertion in these areas encourages taut muscle bands to relax, decreases inflammation and increases circulation at the site of injury, resulting in more blood flow, faster healing and a quicker overall recovery.
We have offer acupuncture for:
Achilles tendinitis
Ankle Sprains
Bursitis of hip and shoulder
Carpal tunnel syndrome
Shoulder pain and rotator cuff injuries
Ilio-tibial band problems
Impingement Syndrome
Knee pain
Localized neck pain
Lower back pain
Muscle tension headaches
Migraines
Osteoarthritis Pain
Planter fasciitis
Rotator cuff injuries
Sciatica
Shin splints
Tennis and golfers elbow (Lateral and medial epicondylitis)
Why Our Treatments Work So Well
Assessment
During your initial appointment we do a full assessment to find out where the pain is coming from through orthopaedic assessment.
Treatment
During treatment we utilize traditional acupuncture points, motor points as well as trigger points of the muscle tissue. This combination helps for lasting results.
Electrical acupuncture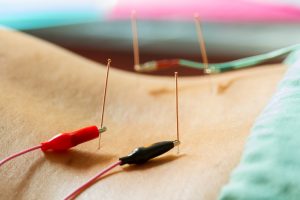 We use electrical acupuncture to increase microcirculation, decrease inflammation and result in faster healing so you can get back to what you love to do!
Myofascial Cupping
In addition to acupuncture treatment we incorporate myofascial techniques such as cupping and manual myofascial release.
Common Questions
How Does It Work?
Stimulation of the acupuncture needle communicates with the nervous system and inhibits pain by the release of endorphins, our body's own natural painkillers. This causes an analgesic effect and reduces pain.
Acupuncture also increases circulation, decreases inflammation and promotes faster healing of the tissue.
Does it hurt?
Not at all, this is one of the biggest misconceptions about acupuncture. The needles are very fine and flexible and would compare to that of a human hair or cat whisker. Acupuncture needles are virtually painless when inserted in the skin. Most people find acupuncture extremely relaxing and fall asleep during treatment.
Will it make my pain worse before it becomes better?
There is always a chance when working with pain that it can get temporarily worse before it improves. We asses this by seeing how you respond to your first acupuncture treatment and adjust your treatment accordingly to minimize the chance of discomfort.
How many sessions until I feel better and my pain is completely gone?
This is assessed on an individual basis. Depending if the injury or pain is chronic or acute will help with our treatment process. Acute/recent injuries respond quickly to treatment. Chronic injuries that have been ongoing for some time will take us longer to fix the underlaying issue.
How long do acupuncture treatments for pain and sport injuries take?
Your first visit is approximately 60 to 75 minutes and follow up treatments are 45 to 60 minutes. We are conveniently located on 124 street in downtown Edmonton for easy lunch hour and after work appointments. We are open 6 days a week, Monday to Saturday, with evening and weekend appointments also available.
How many treatments will it take?
Depending on your individual situation treatment could be recommended once per week or biweekly. Our goal is to get you out of pain and back to doing what you love as quickly as possible.
Danielle
Monica is the best human for the job if you're suffering from crippling long term chronic pain! I been struggling for 15 years with my back and have went to numerous specialists and two different acupuncturists. Specialists have failed me..while the other acupuncturists did absolutely nothing for me. I'm pretty open minded considering I always had people promise me they can make me feel better yet after the appointment I had zero improvement. This didn't just happen once. It was everytime I'd consider someone to help! Feeling desperate.. I went to the good old internet for help! "Best acupuncture in Edmonton" first person to pop up the wonderful Monica Patt! Ah heck what did I have to lose right?! The internet says she's awesome so she must be yeah!?!.. fast forward 4 years later… my pain at bay most days. I have longer stretches of feeling fantastic. I can leave an appointment and actually turn my head and feel like a million bucks! I have to say Monica saved my life because I been suffering for so long I forgot what it felt like to feel good again! Not only does she know what the heck she's doing but she has a fantastic personality to go along with that! She makes me giggle everytime I go to see her and she nips those bad bad muscles in the butt so she keeps me feeling good! I highly recommend seeing Monica because she actually knows what she's doing!! Unlike past experiences I have had! Thanks Monica for being the bomb and keep those healing hands coming! XoxoSDa