Cosmetic Acupuncture & Facial Rejuvenation
Cosmetic Acupuncture & Facial Rejuvenation is a non invasive and natural approach to skin care. It increases blood flow in the skin of the face improving overall complexion and moisture. It also increases collagen production in the local area which creates a firming effect making your skin look more youthful. Cosmetic acupuncture reaches the underlying structures of the skin which tightens subcutaneous muscles and counteracts the natural drooping effect as we age.
This service is offered by our Registered Acupuncturists Rachel Yeap and Jana Lang.
Benefits of Cosmetic Acupuncture:
Decreases fine lines and wrinkles, acne scarring and pitting by promoting collagen and elastin production in the skin

Reduces discoloration and hyperpigmentation

Reduces facial puffiness by promoting circulation and lymph drainage

Improves double chins, jowls and sagging skin on the neck by tightening subcutaneous musculature

In addition to utilizing facial motor points, Rachel also finishes cosmetic acupuncture sessions with facial cupping or gua sha. 
Gua sha is a traditional technique that uses jade tools. Jade rollers are also another form of gua sha. Jade has a very cooling effect on the skin which helps to reduce inflammation. When used on the face and neck gua sha increases circulation and promotes lymphatic drainage resulting in decreased puffiness and improved skin quality.

Facial cupping is different than the traditional cupping used on the body. Specialized cups are used that will not bruise or mark the skin. Instead they increase local circulation, relax facial muscles and encourage collagen production this results in brightened skin, minimized appearance in fine lines and wrinkles and a naturally dewy look of refreshed and renewed skin.
Celluma Light Therapy
Celluma light therapy is the therapeutic use of specific wavelengths of  light energy to tissue, which helps to improve cellular regeneration. Light therapy is delivered through LED (Light Emitting Diode) devices such as the Celluma.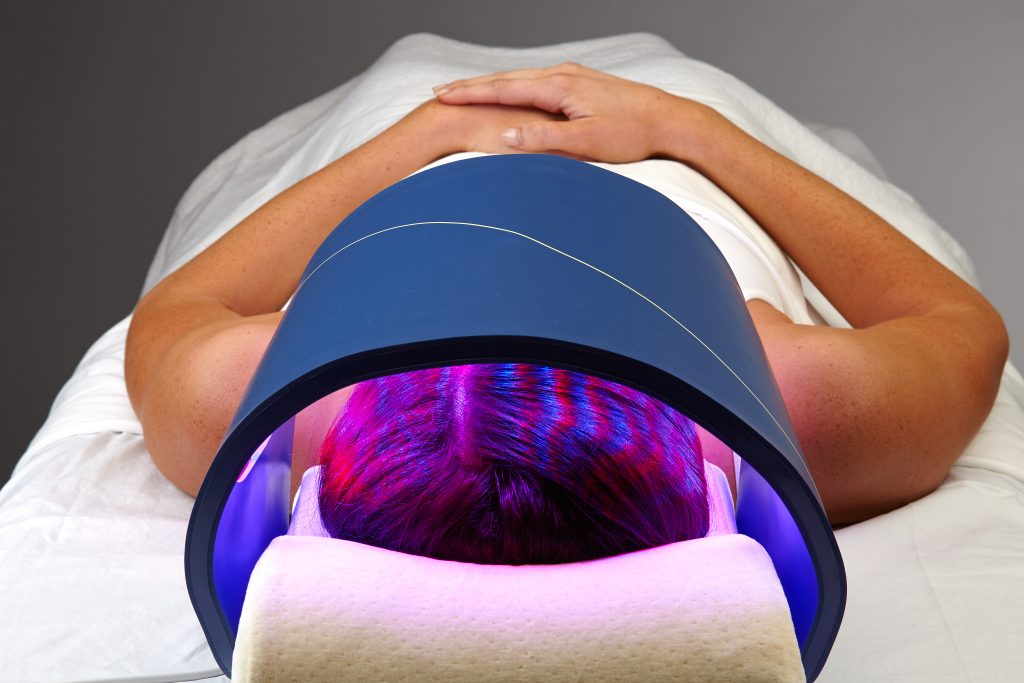 Benefits of using Celluma with Cosmetic Acupuncture 
Acupuncture and Celluma light therapy is the perfect Traditional meets Modern. 
They are both non-invasive and holistic treatments that helps us look and feel our best by naturally improving the body's innate healing capabilities.
When Acupuncture is used in conjunction with light therapy, the benefits are twofold.
Acupuncture creates micro trauma on the skin's surface to activate a self healing response, which increases circulation, elastin and collagen production.  The use of light therapy stimulates cells on a microscopic level, promoting collagen and elastin synthesis and cell turnover.
Common Questions
How is cosmetic acupuncture different from injectables and fillers?
Cosmetic acupuncture is different than all of these. Instead of paralyzing the muscle to reduce fine lines and wrinkles like injectables do, it tightens and lifts them. With cosmetic acupuncture, we are using your body's existing materials to improve the look of fine lines and wrinkles. By tightening the muscles in the face, this helps keep the fat pads under the skin in place and prevents them from sagging creating a "plumping effect," the reason why many women (and men) get fillers. In addition, cosmetic acupuncture is significantly less invasive than injectables and/or fillers. We aren't adding anything to the face that wasn't already there to begin with, reducing the chances of allergic reactions or unfavourable results.
Does it hurt?
No! We have special needles we use for the face that minimize pain. Some of them, you can't even feel when they go in because they are finer than a strand of hair. We also use acupuncture points on the ear and arnica gel during treatments to anesthetize the face to make things as comfortable as possible. Most people find acupuncture extremely relaxing and fall asleep during treatment.
Who is the ideal candidate for cosmetic acupuncture?
Any person who has issues with their skin and wants to improve their general well-being is a good candidate for cosmetic acupuncture. It feels like a spa treatment! However, please note that cosmetic acupuncture is not recommended for individuals who have chronic migraines, high blood pressure, vertigo, are pregnant, or have a bleeding disorder.
What if I have had injectables, fillers or cosmetic surgery?
If you've recently had injectables, it is recommended to wait 4 weeks until receiving cosmetic acupuncture. For fillers, please contact the administering clinic to check the healing time as it can vary from one type of filler to the next. Patients who have had facial surgery or a face lift are recommended to wait a full year before starting other cosmetic treatments. That being said, after the scars have healed from facelifts, cosmetic acupuncture can prolong the life of a facelift. If you have recently had microdermabrasion or a facial peel, it is best to wait a couple of weeks until the skin has healed before getting cosmetic acupuncture.
What should I know before my first appointment?
Come with a clean face please! We try not to use alcohol on the face because it has a very drying effect. We offer make-up wipes if you don't want to leave the house without something on your face, but if you have sensitive skin or a preference for your own cleanser, please consider that before coming in. A face full of make-up isn't clean enough to needle on top of. Moisturizers and oils are fine to use on the face before your appointment. Cosmetic acupuncture appointments are longer in length than our other appointments so make sure you've cleared some space in your day so you get the full benefits of your appointment time.
How long does it take to work?
Collagen takes 28 days to form, so you will start to see the effects after four weeks, especially if you are coming once a week. After 6-8 treatments you should expect to see a 5-10% improvement on your face and/or neck. We recommend 12-20 treatments depending on what we are working on and then once a month for a "touch-up" treatment after the desired effects are achieved. It is highly recommended to book in for a free consultation for cosmetic acupuncture.
How long do cosmetic acupuncture treatments take?
Your first visit is 75 minutes and follow up treatments are 60 minutes. We are conveniently located on 124 street in downtown Edmonton for easy lunch hour and after work appointments. We are open 6 days a week, Monday to Saturday, with evening and weekend appointments also available.