November can be a cold, long month here in Edmonton. And while October brought us some wonderful warm fall temperatures, we're all about focusing on keeping our bodies warm and healthy through the long winters months in Alberta. With that, we have just the recipe for you.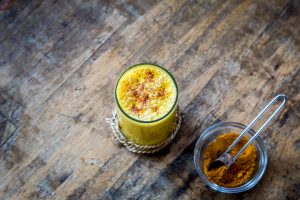 Turmeric is the key ingredient in golden milk. It is a caffeine-free option that can be enjoyed any time of day. If you haven't tried golden milk yet, we're hear to tell you about how much we love it. It's warming, full of amazing healthy ingredients and the perfect winter drink.
There are several healthy benefits to turmeric: it's anti-inflammatory, a great source of curcumin (the chemical compound found in turmeric) and high in antioxidants It also supports digestion and can decrease pain.
This ingredient also helps with inflammatory conditions such as PCOS, endometriosis, digestive issues and arthritis. It can also reduce menstrual pain (yes, really!) by reducing prostaglandins. Prostaglandins are hormone-like substances involved in pain, inflammation and trigger uterine muscle contractions. Higher levels of prostaglandins can sometimes be attributed to more severe menstrual cramps.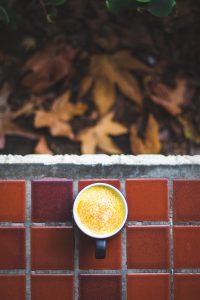 The root of turmeric works similarly to ibuprofin when it comes to reducing pain caused by prostaglandins. This spice reduces the amount of prostaglandins in your system and ultimately…reduce pain! For best, results start using turmeric the week before your period and increase the dosage during menstruation to decrease pain.
Turmeric can have a further effect on hormones by lowering estrogen by blocking an enzyme called aromatase making it another fantastic choice for women with endometriosis, ovarian cysts and fibroids. It is best absorbed by the body with some fat (think coconut milk or oil) and black pepper. Black pepper enhances the bioavailability curcumin the active substance found in turmeric.
Below is one of our favourite recipes:
1 1/2cups light coconut milk (canned is best, but carton works too) – turmeric is bested absorbed with fat and black pepper
1 1/2cups unsweetened plain almond milk (DIY or store-bought)
1 1/2tsp ground turmeric
1/4tsp ground ginger
1 whole cinnamon stick or 1/4 tsp ground cinnamon
1 Tbsp coconut oil
1 pinch freshly ground black pepper ( to aid with absorption of curcumin found in turmeric)
Sweetener of choice (i.e. maple syrup or coconut sugar, liquid stevia, honey
Instructions
Blend all ingredients in a high-speed blender until smooth.
Pour into a small saucepan and heat for 3-5 minutes over medium heat until hot, but not boiling.
Drink immediately and enjoy.
Turmeric lattes not your style? We also carry Theracurmin capsules that can be taken orally with water to offer the same above benefits.
References
(https://www.mayoclinic.org/diseases-conditions/menstrual-cramps/symptoms-causes/syc-20374938)