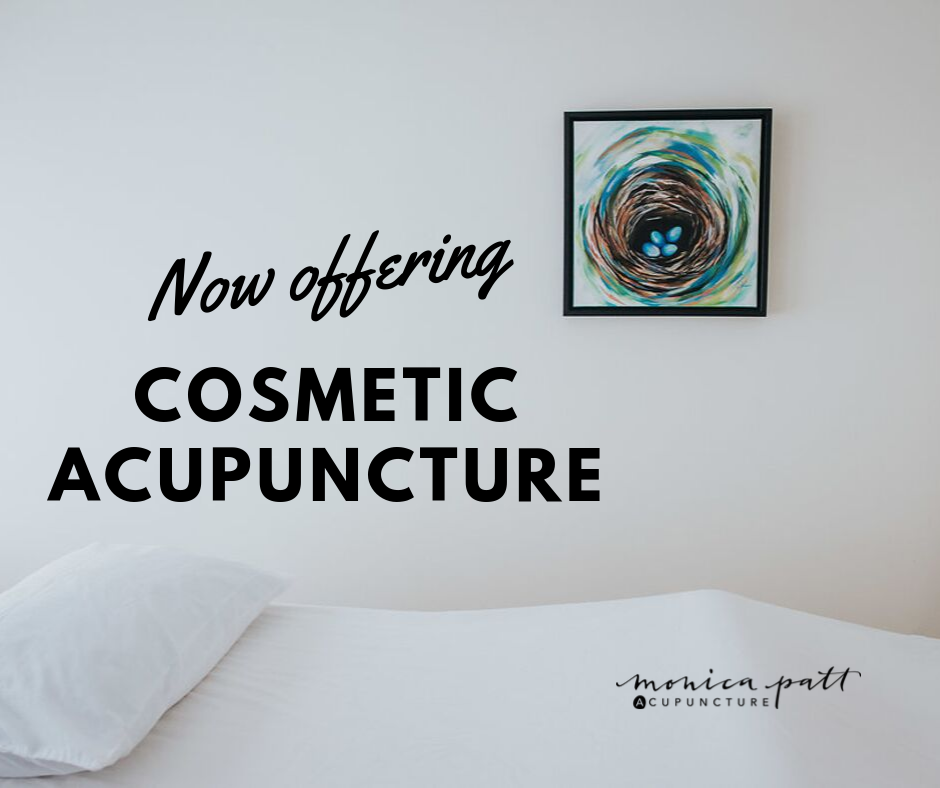 We're really excited to add a new service to the Monica Patt Acupuncture roster: cosmetic acupuncture and facial rejuvenation. 
What is cosmetic acupuncture and what does it do?
Cosmetic acupuncture is a full body acupuncture treatment that focuses primarily on the face and neck. The procedure uses fine-gauge needles specifically designed for the skin on the face because it is thinner and more sensitive. The needles help keep the muscles under the skin firm and the fat pads under the cheeks in place. They also stimulate your skins' own healing mechanisms by increasing blood flow and collagen production. 
In addition to needling, we provide facial cupping and GuaSha in our treatments.
Facial guasha stimulates and moves the lymphatic system, lifts and tightens skin and increases circulation. Facial cupping provides light suction that draws impurities out of the skin and improves blood flow, leaving no marks. Cupping improves the quality of skin on the face and helps to drain excess lymphatic fluid resulting in less puffiness.
What can cosmetic acupuncture help with?
Cosmetic acupuncture can help with:
Fine lines

and wrinkles

Dark spots

Facial puffiness

Under-eye bags

Active acne, acne scarring and pitting

Double chins, jowls, and sagging skin on the neck
Does it hurt?
No! The specific needles we use are designed for the face ensuring that there is minimal pain during the procedure. Some of the needles are finer than a single strand of hair and are often painless when they are inserted into the skin. 
We also use acupuncture points on the ear and arnica gel during treatments to make things as comfortable as possible for our patients. The use of arnica gel also minimizes and prevents bruising. While a needle is still a needle, we find most of our patients relax during their treatments and use it for rest and relaxation. The cupping and GuaSha feel amazing. 
What if I have had injections, fillers or cosmetic surgery?
If you've recently had injections, we recommend that you 4 weeks until receiving cosmetic acupuncture. For fillers, please contact the administering clinic to check the healing time as it can vary depending on the type of filler that's been used. Patients who have had facial surgery or a face lift are advised to wait a full year before starting other cosmetic treatments.
After the scars have healed from facelifts, cosmetic acupuncture can prolong the life of this procedure. If you have recently had microdermabrasion or a facial peel, wait a few weeks until your skin has healed before getting cosmetic acupuncture. 
Who is the ideal candidate for cosmetic acupuncture?
Anyone struggling with their skin and wants to improve their general well-being is a great candidate for cosmetic acupuncture. It truly feels like a spa treatment! However, please note that cosmetic acupuncture is not recommended for individuals who have chronic migraines, high blood pressure, vertigo, are pregnant, or have a bleeding disorder.
READ MORE ON HOW TO PREP FOR YOUR APPOINTMENT HERE.