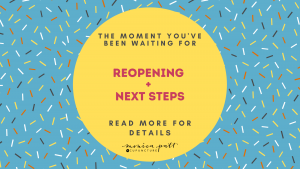 Drumroll please…we are so excited to announce that we are reopening on June 15th!
Thank you so much for your patience. We have been hard at work preparing for reopening the clinic on June 15. While we cannot wait to have everyone back in the clinic, it's important to know that we will be taking necessary precautions and measures to reopen the clinic.
Currently, the Government of Alberta states that the risk of COVID-19 transmission within Alberta remains low. However, we believe in the importance of taking this worldwide pandemic seriously and are increasing preventative measures to help ensure the health and safety of our clients and staff.
Arrival:
You will be required to wash your hands immediately upon arrival. We will also have a hand sanitizing station at the top of the stairs.
Please arrive five minutes before your scheduled appointment. To comply with social distancing, we will not be using our waiting room for the time being. You will be greeted and put directly into your treatment room.
One patient per appointment. This is a hard one for us because we love it when you stop by for a visit. But for now, we ask that you only bring yourself to your appointment to ensure we can abide by physical distancing rules.
You must wear a face mask as soon as you enter the clinic. This is especially important during your treatment since we won't be able to maintain a 2 metre distance during your treatment. We will provide you with a face mask upon arrival at the clinic, but if you have your own, we encourage you to wear it. We are working hard to keep our fees down, and it would help us out immensely if you wear your own mask.
Pre-screening:
As per provincial guidelines we will now have a mandatory COVID pre-screen questionnaire emailed to you 24 hours before your appointment. This survey will be saved in your chart notes and will be available for you to view in your Jane account. We will require this to be filled out before each appointment.
If you are sick, have a fever, cough etc please cancel your appointment. We will reschedule it for you after 14 days. Please note we will waive our cancellation fee for illness.
Staff will also be required to do pre-screening before their shift. Please be patient with us if we need to reschedule your appointment if your practitioner is ill.
Booking Changes:
Massage therapy bookings are now changed to 60 or 90 minute massages. This is due to new protocols we must adhere to in between appointments.
Currently, our staff are working modified hours. In the coming weeks, we hope to increase shift times. We will keep you updated on the situation as it progresses.
Additional health & safety measures:
In addition to the standard cleaning that is part of our routine maintenance schedule, we have increased our clinic sanitization and cleaning protocols. As always, we wash our hands before and after seeing each client and change linens between each appointment.
We will continue to disinfect our massage tables with a hospital grade cleaner between clients. High touch points including door hands, debit terminal will all be disinfected after each use.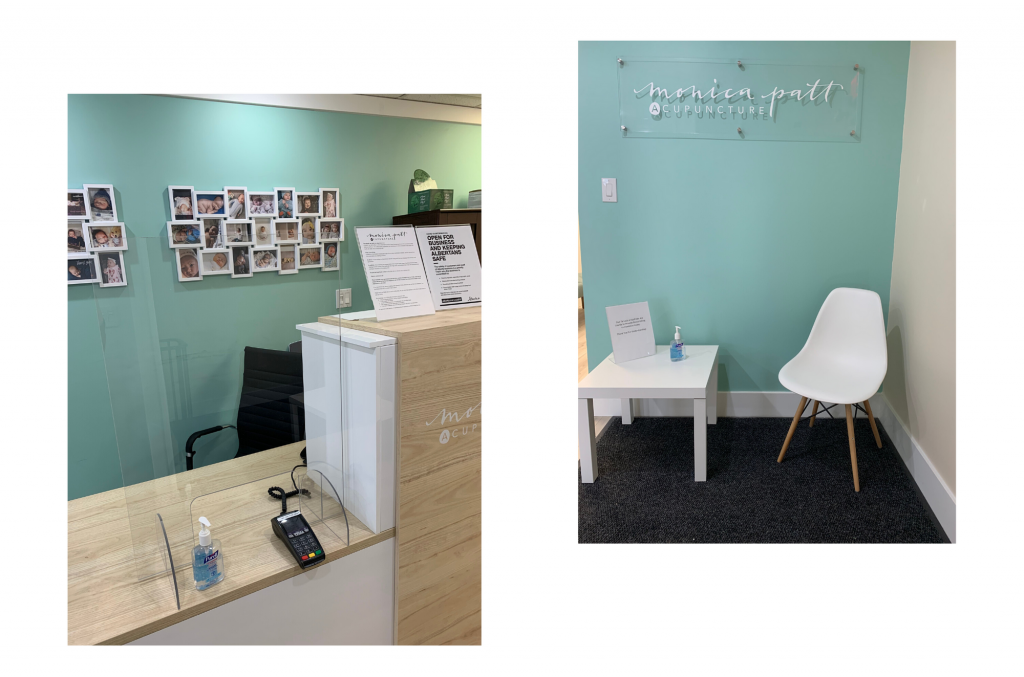 Additional changes:
We have installed a plexiglass shield at our reception desk and now offer tap for debit and credit purchases up to $250.
All treatment rooms will have air purifiers in addition to the ones we already had in the clinic. All air purifiers have HEPA filters. These reduce 99.97% of harmful germs, UV-C light that helps kill airborne viruses.
All staff members will be required to wear medical face masks.
We have added disposable face cradle covers and table paper on every treatment table.
All furniture in the clinic made of fabric has been removed temporarily with surfaces that can be disinfected and cleaned between each client in the same manner as our massage tables.
All communal items that cannot be sanitized adequately have been removed. This includes magazines, brochures and the water cooler in the waiting room (Please bring your water bottle as we can no longer offer you water.)
We have installed automatic hand towel dispensers, automatic soap dispensers, and covered antibacterial toilet paper covers.
Increased procedures for cleaning and disinfecting of high traffic areas (ex: Door knobs, light switches, debit terminal) and common areas such as the washrooms.
We encourage you to follow the information set out by the Government of Alberta:
Practice proper hygiene practices, including frequent hand-washing.
Cover coughs and sneezes
Avoid touching your eyes, nose and mouth with unwashed hands.
Stay at home and away from others if you feel ill.
If you have symptoms, stay home and call Health Link (811) for instructions.
Visit Alberta Health Services and The Public Health Agency of Canada for factual and reliable information on COVID-19.
We appreciate your patience and cooperation with our efforts during this time.
-The Monica Patt Acupuncture Team