I have a confession. I absolutely love brussels sprouts and here is why! Not only do I love what they do for hormonal health and the metabolism of estrogen but also growing them. Here is a picture of what they look like in my garden right now. Many people are surprised to learn they grow on a stalk.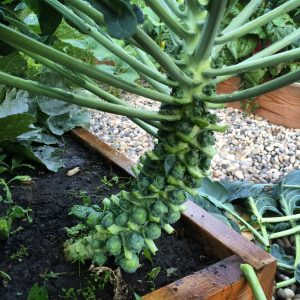 Brussels sprouts belong to the brassica family and include other healthy cruciferous veggies such as broccoli, kale, cauliflower, cabbage and collard greens. These vegetables have a unique compound called indole-3-carbinol (I3C).
Indole-3-carbinol promotes less production of potent forms of estrogen in the system and improves estrogen metabolism while supporting liver function. This makes it great for estrogen dominant conditions such as Endometriosis, PMS and Uterine Fibroids.
Taking a supplement with higher doses of indole-3-carbinol can also be beneficial for estrogen dominate conditions. At our clinic in Edmonton we carry a product from Bioclinic Naturals called Estrovantage which I LOVE!
Still haunted by childhood memories of overcooked, frozen brussels sprouts? Not to worry! Fresh Brussels are delicious and easy to prepare.
Cooking them is simple! Trim the bottom off the brussels sprouts, cut in half, drizzle with some olive oil. Put into a pre heated oven at 400 degrees fahrenheit and roast for 30 minutes. You can also top them with pine nuts, balsamic vinegar or slivered almonds.
Hungry for more recipes? Check out this link by Whole Foods Market on oven roasted brussels sprouts http://www.wholefoodsmarket.com/recipe/oven-roasted-brussels-sprouts
Try to include cruciferous vegetables several times throughout the week for healthy estrogen metabolism.
Like it? Let me know! Like, Pin or share.