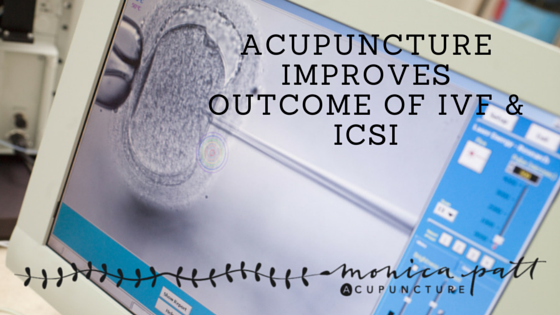 Acupuncture Improves Outcome of IVF with ICSI
A study published in 2006 in the journal of Fertility and Sterility indicates luteal-phase acupuncture has a positive effect on the outcome of in vitro fertilization (IVF) and intracytoplasmic sperm injection (ICSI).
250 patients undergoing IVF/ICSI where divided into two groups. The first group receiving acupuncture according to the principles of Chinese medicine, and the control group receiving placebo acupuncture.
The first group received acupuncture after embryo transfer (ET) and again 3 days later. The control group received placebo acupuncture at the same intervals with the design of the placebo acupuncture not to influence the fertility rates.
Implantation rate was significantly higher in the acupuncture group with a clinic pregnancy rate of 33.6% and ongoing pregnancy rate of 28.4% compared to the acupuncture placebo group at the rates of 15.6% pregnancy rate and 13.8% ongoing pregnancy rate.
This study concludes that luteal-phase acupuncture has positive effect on the outcome of IVF/ICSI.
Resources:
Effect of acupuncture on the outcome of in vitro fertilization and intracytoplasmic sperm injection: a randomized, prospective, controlled clinical study Dieterle, Stefan et al. Fertility and Sterility , Volume 85 , Issue 5 , 1347 – 1351 Retrieved from http://www.fertstert.org/article/S0015-0282(06)00213-5/pdf